Over the past 20+ years we've built a reputation, and a good one at that, for friendly, professional sales, service and installations of garage doors both residential and commercial. When you're in a service industry as we are it's not an easy thing to do. Here's what we mean.
We built our reputation one customer at a time. A lot of people say that but we really do it one customer at a time. Think about it. When a customer has a need there are very few times when we can help them by having them come to our office. It's a nice bright fancy showroom for sure but the garage door in question is not located here. It's always at a customer's home or place of business. So we gas up one of our trucks and one of our trained technicians heads out to your location.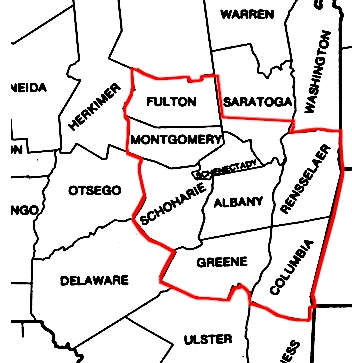 Our coverage area includes the following counties: Albany, Green, Columbia, Schenectady, Montgomery, Fulton, Schoharie, Rensselaer, and Southern Saratoga. That's a big area. Heck it would be a big area if we only serviced Albany, Schenectady, and Troy but we go well beyond those 3 cities. On any particular day we could have trucks out installing a garage door in Delmar, making a garage door service call in Clifton Park (even if it wasn't one of our doors), or adjusting a garage door opener in Coxsackie. If it were just those three trucks on the road their second stops could be in three more different towns.
Each one of those stops has a customer, a single customer that has our full attention to their specific needs and we strive to go above and beyond their expectations. You can easily see that the number of customers we service on even a monthly basis is far lower than most fast food restaurants see in a day. It's small but small doesn't mean insignificant. At Overhead Door of Albany™ each customer has to be treated the way we, ourselves, would like to be treated, no exceptions.
Even now it never ceases to amaze me how many companies fail to realize the importance of every customer. We deal with homeowners, builders, and commercial accounts too and they all get the same professional, courteous service.
So the next time you're in need of some garage door repairs, looking for a garage door part, or want to upgrade your existing garage door find the company with the red ribbon in the Albany area and you can be assured of prompt, friendly attention on your time frame.
It's the length we'll go to.