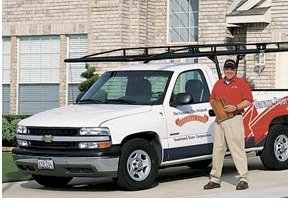 In many other articles we have outlined the basic maintenance you can perform on your door. Using these tips can help you extend the life of your garage door and thus protect your investment.
There is a point, or points, when you should call in a professional to do a complete safety inspection and have your garage door tested for safety as well.
When we receive phone calls from customers one of the most frequent questions we ask is approximately how old is your door. Depending on your answer we have others questions that may need to be asked but for the most part we are attempting to determine how many cycles your garage door has gone through.
One cycle is a complete up and down. Since many garage door issues arise with the springs and the counter balance system as a whole cycles are very helpful. The formula we use is fairly simple and you can use it too.
We assume, based on industry standards and our experience, your door completes a minimum of 2 cycles every day. We have found that using 14 cycles per week is pretty accurate. This means that over the course of the year your door goes up and down 728 times and we round that up to 1000, to be safe, accounting for weekend use and those times when the door gets used more than twice a day.
The springs we install are rated for 10,000 cycles so they should last approximately 10 years if they are cared for annually and your door doesn't have any catastrophic damage (like driving through it or it coming down on top of something).
If you tell us your door is 5 years old we assume 5000 cycles, 7 years – 7000 cycles and so on.
In a perfect world we would like to come out and Lube, Adjust, and Inspect your door at least once per year. This means that you'd always be under our 1 year parts and labor warranty along with the knowledge your door is safe to operate. We can also make recommendations or at least keep you informed of arising issues if any. If your door is so equipped we will also run tests on your garage door opener.
We also know that this maintenance is an investment and you, as the homeowner, just want your door to go up and down when needed. We're also aware that it's an item not generally on your radar until it stops working at which point you have it repaired or even replaced in some cases. It's a lot like your furnace or other large appliance in that regard, we get that.
Using the 1000 cycle per year average we would urge you to have your door inspected every 2500 cycles. A lot can happen over 30 months especially with the change of seasons we experience. Definitely have us over more frequently if you have young children.
As always we do not recommend any homeowner take on the responsibility of adjusting their own door and under no circumstances should you attempt anything with the counterbalance system. I have personally read online forums and viewed some online videos on how to make these repairs or adjustments and although they are thorough they still do not convey the importance of experience and some even leave out the most basic safety requirements. With the average service call being around $85-$120 why would you take the chance to begin with.
1000 cycles per year, that's what we use, and now you know.
You Overhead Door of Albany™ Team