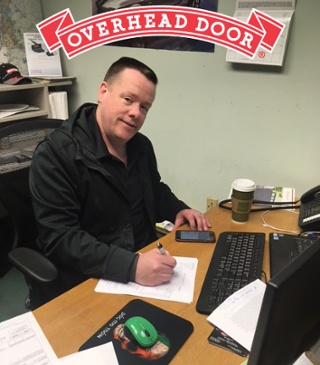 Salesman (noun): a man whose job involves selling or promoting commercial products, either in a store or visiting locations to get orders.
One of our core beliefs is providing customers with free, no obligation quotes, on their time and most often at their home. Inviting someone into your home 20 years ago whether you knew them or not was much easier. Today we find ourselves scrutinizing everything and everyone because the world is a bit less delicate than it used to be.
With that in mind and an understanding that our people represent our company we take great care when adding to our professional team. We even perform background checks.
Meet the Irishman, Jim Lavelle. Jim joined the Overhead Door of Albany™ team just 2 short years ago. Jim came to us from the New York State Troopers where he patrolled some of the most northernmost points in our great state. Prior to
that he was in the United States Air Force. He's as solid as they come.
With a great sense of humor, always a friendly smile, Jim plays a very important part in our company. Jim is a residential sales person. He probably makes about 350-400 appointments each year with the awesome customers we serve.
So the next time you're in need of a quote for a garage door, garage door opener, or a repair call our office (518) 348-0444 and ask for Jim, Jimmy, The Irishman, Mr. Lavelle, or the guy in the Facebook Photo. We'll know who you're talking about and we also know you'll be extremely happy you talked to Jim.
Your Overhead Door Company of Albany™ Team