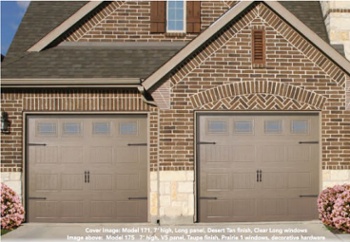 When you shop for a new car does your sales person walk you to the most expensive car on the lot first? How about the least expensive? Probably not. I've found that most sales people want to maximize their effort and through some well thought out questions try to fit you into the best value vehicle for your budget. That makes the most sense.
It's not that much different in the garage door world except the breadth of offerings is slightly more limited. Reputable garage door companies take great pride in the work they do and value the quality of the product they install.
Sometimes customers are simply looking for an extreme value garage door to simply cover an opening on an apartment, old garage, or replace a very old door with as little expense as possible.
Here at Overhead Door™ we have those doors as well. Our Traditional Steel garage doors in the 170 and 180 series are built for just these purposes. From the exterior you, nor anyone else, can tell any difference. These series doors can also be customized like any other door with windows, window trim, decorative hardware and the like.
All these doors have a manufacturers warranty for peace of mind.
If you'd like more information on either of these two door series head on over to our page here and download the pdf.
Your Overhead Door™ Team