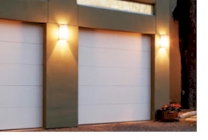 The proverbial balloon has popped. It seems all the hibernating communities have awoken for this years Spring. It's certainly coming in with a bang. We were fortunate enough this past winter to stay busier than we've ever been but with the thermometer reaching almost 80 today and this past weekend being in the low 70's with sunshine our phones are ringing and the emails are flying in. Must be my crystal ball was right and you're using your garage door more and more.
You what's best about this years uptick in activity? We're ready. We took the time to do some additional planning and have implemented new procedures, added 3 additional staff members and another truck. On top of all that we have all new software systems in place (which I've written about prior) that is assisting us in communicating with you even better than before.
Just like years past we kick-off the upcoming season with the Sports Plex of Halfmoon Home Show in Clifton Park. This one is a no brainer because we are literally in the same park as the show. With no less than 5 of our best people scheduled to work the show they all came away with the same sentiment. People were out early and had questions, good questions. The show was busier than normal and that leads to good things, not just for us, but is also a good indicator of how home improvement will be in general this summer.
We have also seen a pretty large increase in the communities we serve with the Do It Yourself crowd in the form of requests. We're hoping that our previous blogs on how to maintain your door have had an impact in helping people save money or avoid costly repairs. We are seeing people stopping by for the things they can change themselves like certain hinges, hardware, handles, while also picking up cans of our climate specific lubricant. All good stuff by our account.
Use your door for which it was designed and rest assured if you hit a snag or want to upgrade we're here for you just like we have been for the last 20 years.
Your Overhead Door of Albany™ Team