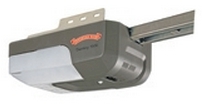 Garage door openers provide a level of convenience that is unrivaled by many of today's comfort gadgets. Those who have them currently installed already know that when it's pouring down rain and you have a trunk full of newly acquired groceries the luxury of pulling in and avoided the inevitable soaking by Mother Nature. Same goes for windy, snowy days too. But the electric openers available today provide much more than the basic convenience of making your door go up and down remotely.
Our industry at large has not done a very good job of letting people know just what's available in the market for these systems.
Technological advances in how openers are controlled and how they function go hand in hand with the ever evolving reliability they can provide.
On the safety side most, if not all, of today's products come equipped standard with a set of photo-eyes . Their job is to make sure that there are no obstructions that would impede the door from closing safely. If an object is detected to be blocking the opening the door should not operate at all but will give you a visual alert (usually the blinking of the lights on the opener) that something is in the way. This saves you from damaging the door and the object in the way. Most have what's called reverse sensing. If an object is in the way, like a rake handle, or something else that is small enough to fit under the photo eyes the door will attempt to close as normal but if it cannot reach the fully closed position it will reverse itself. This can be especially important with small children in the house.
For those techies out there these openers are now chock full of advancements that can provide reporting features too. Homelink is available for just about any opener at this point so the need for a bulky remote clipped to the visor of your car has been eliminated. Homelink is a system that is available on most vehicles and is used to control certain systems of your home from your car, the garage opener being one of them. Car2U is basically the same system and our operators link to those as well.
Overhead Door™ also makes available the Advanced Garage Access Control . This neat little unit will provide a report of the last 10 cycles of your door which can be viewed for troubleshooting. It also has a Sure-Lock control which allows you to disable remotes and keypads for added security. If you're going to be out of town you can make sure no one can open the door even if they tried to break your code. It can also remind you when it's time to maintain your door.
Door Report is an OHD innovation that gives you an audible alert when your door closes. You'll never have to ask yourself if you remembered to close the door or not again. If it doesn't close properly you'll hear a different tone and the LED will blink red. ** Only available on the Odyssey and Destiny Openers. This functionality can also be found on the Series 2 Wall Console .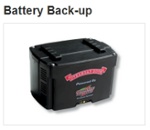 Many of our garage door openers are now using DC current. DC provides a quieter, even more reliable operation and also allows for the use of a battery backup . When the power is out you'll still be able to use your garage door for up to 50 cycles keeping your garage safe and secure.
Our CodeDodger technology randomly selects a new access code from a possible 4.3 billion combinations virtually assuring that no one could access your garage without your permission.
For residential openers we have horsepower ratings up to a whopping 1hp for lifting almost any residential door. DoorDetect helps the opener determine the optimal power need for a smooth efficient opening and closing.
We offer three different drive types for our operators. The Screw Drive provides power and speed and is maintenance free. Requires no additional lubrication. The Belt Drive is smooth and quiet and the Chain Drive provides value and performance.
If you have any additional questions please give us a call at (518) 348-0444 or click here to see the latest from Overhead Door™.