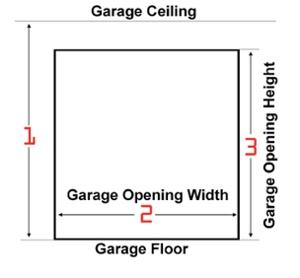 We have a team of professionals that spends large portions of their workweek with a tape measure in their hand and a notepad at the ready. When a customer reaches out to us to replace their garage door we will ask them 3 basic measurements we need to provide a rough estimate on a garage door cost. Those 3 pieces of information are very valuable but in every single case we also send someone out to verify and get even more information.
If you are considering a new garage door or replacement the three things we will need without question are the width of the opening, the height, and the distance between the floor of your garage and the ceiling. With just these three dimensions we can quickly give you an estimate. That is, of course, assuming you know which door series you're considering.
There is much more detail we will need before we send our technicians out to install the door or even before we order a custom door.
We are concerned about headroom, which incidentally we can calculate from those 3 measurements above. Headroom is the distance between the top of the garage door opening and the ceiling of the garage. Headroom is important because if you have less than 14" or so there will be a different track system installed to allow the door to clear the ceiling when it is opened. This measurement can also require a different garage door opener setup if you are adding one to your order.
Headroom also comes into play when you have a garage door opening that is a standard 7 feet high but your garage ceiling is much higher, like 10-12 feet. We see this in some newer homes. In this case you may want the garage door to open much closer to the ceiling height. This is called high lift and is useful if your garage is used for a workshop of some kind where the additional height is convenient for moving large objects around. We can do that too with a easy change to the track system.
Additionally we will be looking for the amount of side room there is. Side room is the distance between the side of the garage door opening and the wall (if applicable) of the garage. When the track system is installed there is a need to have a little space here so all the necessary hardware fits properly on either side of the door.
We will also take a look at the overall depth of the garage, that is the distance from the opening to the back wall. This doesn't come into play all that often. But is you have a shed that has a garage door opening height of 7 feet but the overall depth of the shed is only 6 feet you can understand that when the door is opened there won't be enough room for it to open fully. We can handle this too with a couple of different products we carry but this situation definitely requires some conversation.
We will also be looking at the floor where the garage door will meet when closed. An uneven or un-level surface requires a different type of weather seal. Part of the point of a garage door is to keep the elements out and when large gaps are found upon the closing it defeats the purpose. We have specially designed seals for this and in most cases they work wonderfully. If we find the floor to be too far out of whack we'll let you know well before you make a decision.
We'll also look for things like rain splatter. This can sometimes determine the type of door we'll recommend. If rain pours off the roof and splashed directly on the face of the door we'll be able to give you the options available or recommend how to avoid that altogether.
So yes, we can use your measurements and the more information you have the more accurate we can be. Just remember in every case we're going to come to you, on your schedule, so we can truly measure twice and install just once. You deserve it.
Your Overhead Door of Albany™ Team