Dave and Kim Ripley own the Overhead Door™ distributorships for Albany New York and Rutland Vermont. I happen to have the pleasure of working for them. Through a series of unique coincidences, a little luck, and a mutual friend I sit at one of the two locations every day.
They have two of the best general managers in the door industry with Ken Harrington in Albany and John Gilbert in Rutland. I've spent my fair share of time in other companies and have been witness to many different corporate structures and as far as upper management goes John and Ken have the most unique positions I've ever seen. In addition to the daily operations which I will spare you the bullet point details these two gentlemen also are responsible for sales of their own. How they keep it all together is something that will take some time for me to understand. They're great at it and I will learn so much from both of them.
Yesterday was a little unique for me in that I had the opportunity to spend the better part of the day with one of our general managers, on the road, visiting customers. It was an eye opening experience.
Later that day my wife and I had dinner plans with friends that we haven't seen in a little while and during dinner I was asked what I am doing these days. I thought to myself, "I work for a garage door company." and that is exactly what I spouted. More details were forthcoming to further clarify my responsibilities. After our meal was over and we parted ways I replayed the nights events in my head and that question came up again. I started referencing the day's earlier experience on the road and, although true, I am in the garage door business as a company that's not entirely accurate. I'll explain.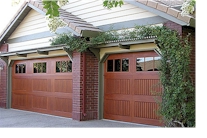 We are also in the contracting business. When a homeowner needs a new garage door it's our responsibility to make sure the opening the door is being installed in is appropriately prepared for our technicians. We give advice on what needs to be done, in advance, so we don't have any surprises when the tech arrives. We also work hand in hand with many area builders/architects to provide the same insights and recommendations.
We're in the security business. Many of our products are in use for applications that provide security for businesses. Rolling steel doors, mall store grill gates and even some service counters all have our products. Our products are relied upon for personnel and property security.
We're in the fire safety business with the industry's leading technology for overhead doors that automatically close when smoke, heat, or fire is present.
We're in the trucking business as many long haul drivers and local delivery cargo trucks have our products installed. We need to know, and our installers are factory trained, to handle these jobs as professionals.
We're in the distribution business. Loading docks, cross docks, and warehouses all rely on our doors to be reliable and functional to receive and deliver freight. We have expanded our knowledge to dock leveling systems and are well equipped and trained for those as well.
We can be found in so many places is my boggling. We provide continuing education for our staff to stay up to date on new technologies and applications for our products.
As for Ken and John they have knowledge of it all as part of their responsibility so if you have a question, any question, regarding something to do with a garage door I am sure they can assist and they will in any way possible.
So yes, I am in the garage door business. The next time I am asked what I do for a living I'll reply in a completely different manner.