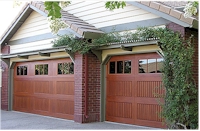 At the core of how we're different than the "other guys' is our ability to come meet you at your home or place of business. We offer free onsite visits along with garage door estimates and design consultations. On top of that we have a pretty neat little tool that allows you to upload a photo of your home and overlay a new garage door image so you can easily visualize what a new door installation would look like.
That's all well and good and proves that we're happy to pay you a visit at no cost but coming into our showroom is something entirely different. Recently we've undergone a showroom re-design to update our facility with the latest and greatest offerings from Overhead Door™.
When you stop by it gives you a chance to see a working door and a few different types of garage door opener models actually in action. It's different because you can lay your hands on them and hear the different sounds a garage door should make when in perfect working order. Most folks find it more enlightening than originally thought.
If you stop by you also have the ability to meet our staff, find out how friendly we are, and get a sense of the culture of our little company. Taking a seat in one of our sales offices you'll find that we're here to answer questions, all of them.
We can discuss style, look, and the other values you're looking for and can create a no obligation quote for you on-the-spot.
Sure we can provide the nuts and bolts over the phone or via email too, just like the other guys prefer, but that doesn't tell the story of who we are. We understand that price is almost always the main concern so doing your due diligence and getting multiple quotes is always a good thing. You can rest assured that we'll give you up front honest information to assist in the purchasing process even if you choose not to buy from us.
You're going to have a relationship with your garage door for 15 years or even longer. Don't you want the same relationship with the company doing the work?
You're not just buying a product you're also buying the company behind the brand. We want to be that company.
Your Overhead Door of Albany™ Team