You wake up one morning, it's a beautiful day, your morning coffee was absolutely perfect, and you're ready to get going.  Ready to start your day and walking out to your car only to find that something is wrong with your garage door. Not exactly what you were planning for sure. You find a broken garage door spring, bent or busted garage door roller, snapped cable, garage door opener not working, or maybe something even worse.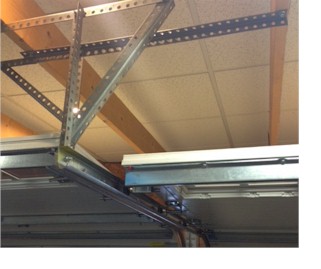 Fear not my fellow garage door enthusiasts, help is on the way. Here at Overhead Door Company of Albany™ we are at your service. Now, we would like to be the company that you call every time but we also understand that it's entirely possible that you're reading this far outside the service area we cover as, after all, something written on the internet can be read from anywhere. That doesn't mean we can't help folks well outside our service area too. So whether you're lucky enough to be near us or if you're from afar we'd like to arm you with some questions to have at the ready before you pick up the phone to get your garage door serviced and back in working order.
Chances are you need your door fixed quickly but that doesn't mean you have to settle on the first person you speak with. It's your money, after all, and you should get a quality repair regardless of the timeframe.
Can you repair my door even if you didn't install it?
Do you give free estimates?
Will you come to my location at no charge to inspect the door and can I get a firm quote while you are here?
While you are here will you inspect my whole door?
How quickly can you get the repair done?
Once completed what type of warranty can I expect on the parts you replace? Is that warranty in writing?
Why should I choose your company over another?
What levels of insurance do you carry?
Will a company employee do the service or do you use subcontractors?
Those are just a few questions that are important to know before paying for a garage door repair. Of course, price should be on that list to and we urge you to get more than one quote.
Overhead Door of Albany™ is an area leader in garage door repair, garage door service, and garage door sales servicing the Clifton Park, Albany, Colonie, Troy, Schenectady and surrounding towns and cities.