In keeping with the spirit of Garage Door Saftey Month.
One of the most frequent phone calls we receive, from a service standpoint, is customer's remote control(s) for their garage door opener failing to work.
Assuming that all the batteries haven't gone bad at the same time there is one simple test you can run. This applies when ALL of your remotes (if you have more than one) and your wireless keypad stop working at the same time.
Press and hold the wall-mounted button in the garage. If your garage door opener works than you can be all but certain your photo eyes are either not aligned or have a broken or bad wire. The photo eyes are a very important safety feature that stops the door from operating should there be something in the way of the door coming down properly.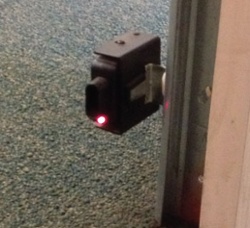 The photo eyes are located at the very bottom of the garage door tracks and there will be one on either side. In most cases they should both have a steady light. If the light(s) are flashing they are not aligned properly and you should be able to "twist" one or both of them until they line up and the lights stay on steady. If one or both do not have a light at all this could mean they became unattached for some reason.
The photo eyes get bumped by garbage cans, boxes, snowblowers, balls, just to name a few. The required placement puts them right in the line fire sometimes. Please don't move them up or down even if this happens frequently to you as the location is important for them to provide the intended saftey.
In some rare cases a bad circuit board can also be the culprit but a quick phone call is all it takes to determine that.
So the next time your remote gives you fits check all the other remotes first and then run the test.
We're always available to help so if you get stuck send us a quick email or give us a jingle on the phone.
Your Overhead Door™ Team