Your garage might just be the most useful space in your home. Other than keeping your vehicles out of the weather, we here in the Northeast use our garages for so much more. For some it's a nice shelter to store items that have no other place to go and others (like my current neighbor) have just about every toy known to exist on earth stored there. I don't think he's actually set foot on his lawn in summer or his driveway in the winter as he has something to ride on for just about every occasion. But I digress. Once our belongings are in there we can effectively forget about them, sans your vehicle, with the confidence that when the occasion arises for use we've placed them in a safe, dry, happy environment.
All that being said we believe that your garage door should just work. Day, night, spring, summer, winter, or fall your Overhead Door™ brand door is built to last for years so truly it's not something you should have to spend any time on or even think about. Your garage door should be easy to operate whether you're pushing a button on a remote, entering a code on a keypad, or working it "old style" with the squat and lift technique. If it's not easy then it's an inconvenience and we can't have that. Here at Overhead Door of Albany™ we stock just about every garage door part you could possibly need to keep that door in healthy working condition.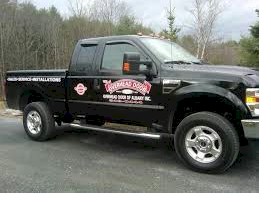 With over 20 years in the business Overhead Door Company of Albany™ has the expertise you expect and some of the most, if not THE most, qualified technicians in the Northeast. What's more is that we're here for you with our fleet of 8 service and installation vehicles. So if your garage door is less than optimal for you to operate we encourage you to give us a call or use the form on our website to let us know the symptoms your door is exhibiting.
We service a very wide area covering from south of Exit 10 on the Northway to points East and West and all over the Capital region.