Garage doors have loads of moving parts. We have outlined in previous articles how you, the homeowner or business owner, can do some service on your door to keep those parts in harmony. Overhead Door of Albany™ has many moving parts to.
These parts can be broken down into 5 basic groups. We have sales, service, installation, scheduling, and administration. I think many businesses would fall into these basic categories. All the pieces need to work in harmony for our customers to get the professional attention they so rightly deserve. Most of these things happen in the background and there is one single point of contact for all.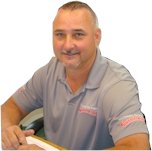 Ken Harrington is the general manager here and if you tossed 5 balls at him all at once he would keep all of them in the air with focus and attention and probably yawn at the fact there's only five. Ken is the big cheese, the main man, the oracle, and all around good guy.
Ken starts and ends his day with how to best serve our customers. He insures that when our service trucks arrive back here at the end of the day that he gets a detailed play-by-play from our technicians and he has this sixth sense about him to probe into items that he thinks need more detail. He's virtually impossible to fool. I haven't directly asked him what he does during the overnight with that information but I can tell you this. When we get to work the next day we better be ready to go because we all know that he will be. Maybe it's his years of military training but in the morning he has questions, guidance, and detailed notes on how the day is going to be formed and if he has a question you'd better be ready to answer.
A quick scan of the scheduling board, directions for the technicians, and sales follow up all happen in the first 10-15 minutes of his day.
Now Ken does have his downsides. A couple that come to mind – first, he's a Dallas Cowboys fan and second, let's just say that his cell phone, or more accurately, previous cell phones are stuff that legends are made of. To him these are an invaluable tool and they must be able to take the nonstop use and abuse a man with his drive and work ethic can dish out. Somewhere there's a place where cell phones go to rest and I am confident there is a group of Kens old phones all huddled together in a corner commiserating with each other.
There is one singular mission for Ken and that is your satisfaction. I can't think of a better man for the job. Whatever it takes, wherever it takes him, and no matter how long it takes. He won't rest; pretty sure he doesn't sleep anyway, until we've done the job you expect us to do.
Ken can be reached at the office (518) 348-0444 or by email [email protected].
Now for the hard part, do I let him review this article or just post it and be ready for the questions in the morning? Let me get my lucky penny out and give it a flip.