When you live in the Northeast like we do and you're choosing a garage door you probably need to take into consideration many factors.
Most of start with budget and then onto things like style, color, windows, etc because that just seems to be the normal order of things in our experience. Here at Overhead Door of Albany™ one of the first things we talk about, because again we're in the Northeast, is insulation. We have a full line of garage doors called the Thermacore Door System. It snows and gets cold here, sometimes a lot. It wasn't the first door we ever invented but it sure has become the leader in the industry.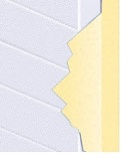 Providing you with an R-Value of between 9.31-17.5 which, to put in perspective, the 3 ½ inch Owens Corning fiberglass has an R-Value of 13. That's pretty impressive when you realize we squeeze that value into a door panel that is only 1 5/8" thick. This is accomplished by sandwiching a continuous layer of foamed-in-pace polyurethane between two sheets of steel using our proprietary process. The steel panels are hot dipped galvanized steel with two, count 'em two, coats of polyester paint baked on. Don't be fooled by the imitators, these doors have steel on both sides giving the interior of your garage a sleek clean finish.
Thermacore garage doors are extremely easy to maintain and we recommend a washing with warm water and ordinary dish soap just once a year. With up to a limited lifetime warranty (model dependent) you will have the peace of mind that should anything happen to your door, which is extremely rare, that you're covered.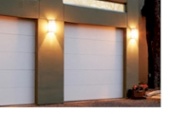 If style is what you're looking for then the Thermacore has that covered too. Sure it's great in commercial garage door applications where large doors reside with the need to keep the cold out and the heat in but Overhead Door™ has adapted this process for the homeowner as well. We're proud to introduce all new styles, colors, and textures in this line. Take a quick internet ride over here to peek at what is new. If you'd like more information give us a call at (518) 348-0444, download a brochure, or request a free estimate directly from our website.
If you're cost vs value conscious, and we hope you are, it's simply hard to beat a Thermacore door installed by our factory trained technicians.
Thermacore, The Northeast, and Overhead Door of Albany™….Perfect Together.