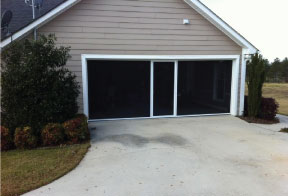 Maybe I just never noticed before but I feel like I am seeing more and more garages being turned into living space. There was always one house on my block that had a DIY screen in place of the garage door but that was because they had two large dogs that they left in there while they were at work. It was one of the world's largest doghouses I suppose. Not to mention nobody was going to approach the house with no one home, those dogs were big.
When I think about it the concept is pretty cool and makes sense for the Spring-Fall season here in the Northeast and New England. Your out of the weather under shade and of you are lucky enough to have a screen it is also virtually bug free. I'm a big fan of sitting on my back deck but if you want something to look at the garage makes sense. Traffic, joggers, bikers, and people out for a stroll or walking their dogs would be within view and possibly earshot. I think we could start of movement. What better way to get to know your neighbors than giving a wave or a hearty "howdy" as they pass by?
We do sell and service the Lifestyle Screen brand and we'd be happy to get you a free quote if you have some interest. Customers are finding that they are well within just about any budget.
More importantly you want to make sure your garage door is in great working order if using that space for something other than parking your car. Our team has the knowledge and tools to get just about any garage door working like it did when it was new. We're just a click or a phone call away.
Graduations and parties are probably all securely inked into part of your summer schedule and having a garage door that has the potential to give you fits when hosting one of these is probably less than ideal.
So while you're preparing invitations, food, games, and dates don't look past your garage door. Give us a call and we'll make sure that you can cross that off your list early.
Your Overhead Door™ Team